Early taste of winter with skiing and grooming has us excited for the upcoming winter season. We will be open this winter for lodging and meal options for overnight guests and also for day skiing, fat biking and snow shoeing. We are constantly monitory the rules and regulations set forth by the Minnesota Department of Health, the Stay Safe MN guidelines, along with processing information from the CDC and other health organizations. The health of ourselves, the staff and guests is our number one priority. We are a family owned and operated resort that values the well-being of our staff and guests above all else.
The new restrictions set in place by Minnesota Govenor Walz with Executive order 20-99 on 11/18/20 does not change our planning or ability to serve under our current plan that already has adjustments and changes in place. The order expires before we plan to open for lodging operations.
Lodging and lodge services will be available December 20th. The trails will open for day skiing and fat biking only as soon as conditions allow. As noted below; the main lodge will be closed to day skiers during the season. All day and season passes must be purchased online.
The option for take out food will exist and depending on how things progress, take out might be the only food option. We will have separate entrance and exit points for the lodge and dining room when entering and exiting.
We sent out deposit letters for existing reservations in September and thank you to all that have confirmed and indicated your plans for the upcoming season. Even if it does not involve a visit this year, the heartfelt words are so appreciated and a reminder of how fortunate we are to have such wonderful guests, that we consider "Maplelag Family". If you did not receive a letter, please contact us as soon as possible.
How things might look this year:
When Maplelag first started as a resort, welcoming guests for skiing among a mixed hardwood forest, it was a place to escape to rejuvenate and restore from the outside world. It was much simpler times that saw folks arrive, go to their cabin, stoke the wood fire stove, ski/snowshoe and either come back to the sugar shack for a home cooked meal or enjoy pre-prepared food. There was not much community atmosphere like there is now. In discussion and planning on how things might look this winter, we envision a similar approach to these simpler times of the past. For example, arriving to Maplelag, checking into your cabin with pre confirmation of exact unit and location, recreating and enjoying the beauty of winter whether skiing, snowshoeing, fat biking or gazing at the stars at night or watching snow fall gingerly from the sky. Don't forget a good book or puzzle, options in the lodge or in the expansive library. Another alternative if your lodging unit does not have a large common space would be to reserve a private room downstairs. This idea is still in the planning stages.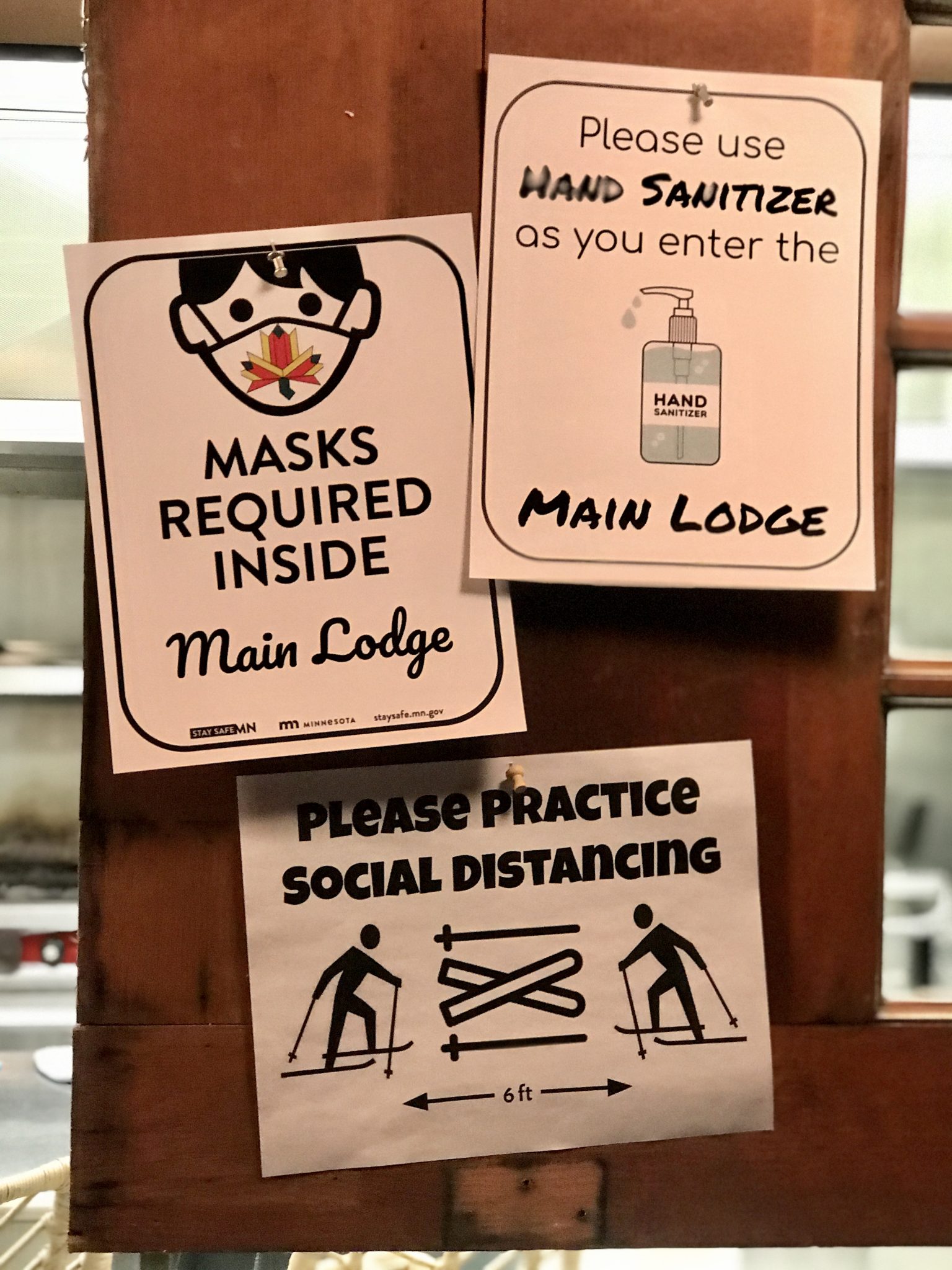 We plan to serve Maplelag's home cooked family style meals with social distancing and mask wearing in place. Weekends where we might have more people (and still below our "normal" occupancy) in addition to using the dining room we would also use the middle conference room and the large conference room to spread people out as much as possible. There is also the possibility we would have take out option. If regulations and extra safety measures are taken, it is possible all meals will be takeout. Either way, we are prepared to accommodate all the overnight guests as safe as possible.
We know people have different views and opinions and we ask that everyone be respectful and mindful of other's opinions. Only same group or family members will be seated together. At this time, it looks like our occupancy during the weekends and Holiday time frame will be 50-60%, well below the maximum numbers allowed for group gatherings based on our occupancy and dining room size. With the Maplelag dining room the size that it is, we will be able to spread everyone out safely. There might be options for bag breakfast or lunch–again this will be a work in progress. These ideas are in the planning stages; we are always keeping everyone's safety our top priority.
Other changes:
The coffee bar area will have a different look. The cookie jars will not be in place; instead, all cookies will be individually wrapped. Coffee, tea and hot chocolate will be available.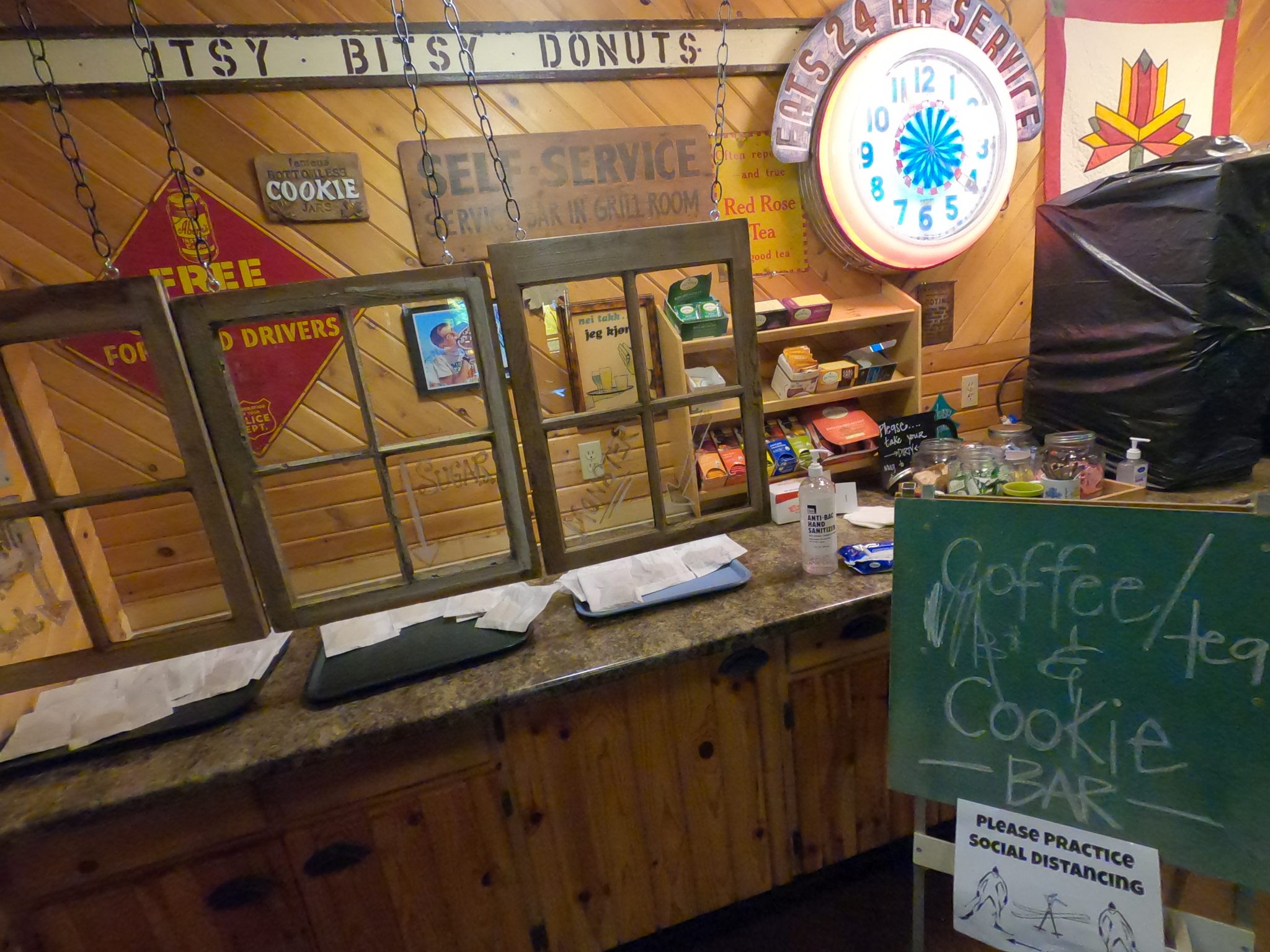 At this time, the hot tub, sauna and steam room will not be in operation. This could change and there would be sign up sheets for reserved times and private use. Again, everyone's safety is priority.
Ski Rental will be limited for overnight guests. We are working on a final plan, self service most likely a option. No ski rental for day skiing use (non overnight guests).
Day passes for day skiing (non overnight guests) must be purchased online; there will be no services for day skiers offered in the lodge at this time.
The dance/variety show will not be planned at this time.
Checkout/final payments will most likely be done online, we will invoice folks through PayPal or other electronic means.We will continue to update this page with our latest plans, and of course we ask anyone with specific questions outside of this information to reach out. Thank you and be well!