After a cool start to the week, the temp climbing in to the mid 20's today with sun and cloud mix. Fantastic day on the trails. Fresh tracks set this morning on JibFly, Sukkerbusk, Mother Hen, Twin Lakes, Wavy Gravy and Rootin Tootin. The trails groomed up very nice and reports from skiers hitting the trail, excellent. This time of year can be some of the best skiing of the season. Fresh grooming planned for Bullhead, Roy's Run, Island Lake, Mother North Star, Sap Run and all the skate trails, Friday morning.
A cold start to the day but warming up nicely with no wind to make for great skiing, sledding and skating for the Roosevelt Fifth Graders who were out for the day on Wednesday. Most of the kids on skis for the first time ever! Click here for photos.
The trails are holding out well and in great shape. Little bit of organic matter from Tuesday's wind but fantastic skiing on the trails and personally some of the best skiing of the year. Trails are hardpack and fast. The start area of Lotvola Cup groomed Tuesday morning with test tracks set. Final grooming will take place Saturday evening, most likely.
Compacted base 8-10″. Snow depth in woods 1-2 feet. 100% open on 64km. 57 km tracked for classic, 13km groomed for skating.   Skaters Waltz/ extension, Suicide Hill and North Loup groomed for skating.  There is also a track set on North Loup for classic.
Total snowfall  this season has been 75″.  The trails are open for day skiing and the current fee is $15 to use the trails for the day.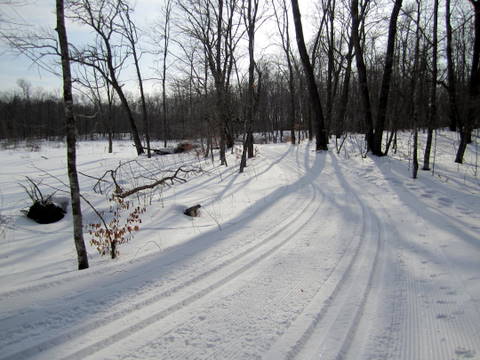 Fresh tracks set on JibFly Thursday morning. Great skiing on the fresh groomed today.
http://picasaweb.google.com/6birdman6/March3rdTrailReportPhotos02
http://picasaweb.google.com/6birdman6/March1stTrailReportPhotos