Laddies Loppet is a mountain bike stage race we hold every Labor Day weekend at Maplelag. Laddies Loppet 2010 will be September 3th-6th. Saturday's racing includes a time trial and short track and Sunday's racing features the main event of cross country racing. Saturday's short track has been designated the official state championships by USA Cycling. Once again we are proud to be a part of the Minnesota Mountain Bike Series  (MNMBS) for 2010. Laddies Loppet will be race #10 in the series this year. The Laddies Loppet is also part of the USA Cycling National Calendar and a qualifier for the 2011 USAC-MTB National Championships.  The race is named after our former, friendly dog, Laddie. This is a great event for the whole family with races and age categories for every type of rider. The event is held under USAC permit.
Stage race returns for the fifth year! We will have a open class for male and female riders in the Kids Comp CAT 3 (formerly Citizen) , Cat 2 (Sport and (Comp male only)) and Cat 1 ( Expert/Pro classes). General classification will be scored on a point system with the rider with the lowest points taking the overall win. Awards for the top three overall stage winners in each class with cash to Cat 1/Pros.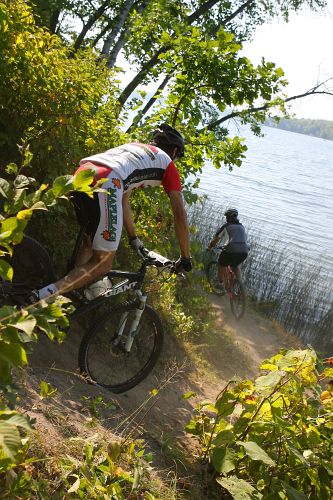 Weekend Schedule:
Friday night Supper 7pm (all meals are served family style please come at meal time)

Saturday Breakfast 8am
Registration opens at 9am

Time Trial 10am Elite, Cat 1, Cat 2, Cat 3 in this order. Elites be ready at 10am
Skills Clinic with Kyia Anderson 11am to 12:30
Lunch at 12:30 pm
Short track racing with Cat 3 Citizen start at 4pm (schedule below)
Dinner 7pm
Registration for Sunday at 8:30 pm

Sunday Breakfast at 8am
XC racing begins at 9am with kids comp and ends with Elites at 1:15
Lunch served in lodge at 11am to 3pm
Supper at 7pm
Bonfire 8:15 pm
Monday Breakfast at 9am
Cash payout as follows for top five overall male and female  Cat 1/Pro/elite in stage race:
1st-$500
2nd-$250
3rd-$200
4th-$150
5th-$85
100% cash payback plus $200 awarded to the top five as a minimum in Elite men and women time trial and short track with special awards to the top overall finishers in Comp, Sport and Citizen.
Note: You do not need to race in the time trial and short track to be counted (point wise) in the MNSCS. The Sunday cross country race is the race that counts in the point standings for the series.
Racing action begins on Saturday with a time trial at 10:00 am. The course will be approximately 3 miles in length running mainly on cross country ski trails with a few short sections of singletrack. Cash primes to male and females who break course record set in 2009. All classes will be riding the same course. (This a a great event for the first time racer as well as the distance is short and is a good introduction to mountain bike racing). Cost of this event is $10. Saturday afternoon is the short track criterium. The laps are 1-2 minutes in length and run in between the cabins and lodge making for a great spectator event. Total race time is around 10-20 minutes. Kids Comp starts at 3:45pm Cat 3 Citizen short track starts at 4:00pm,  Cat 2 Sport at 4:30 pm, Cat 2 Comp and Cat 1/Pro Expert Women at 5:00 pm and Cat 1/Pro Men at 5:30 pm. Cost of this event is $20.
Minnesota Pro Kyia Anderson will be leading a free skills clinic on Saturday in between the Time Trial and Short Track events, 11am to 12:30pm. The clinic will cover basic bike handling but also cover skills riding on the Maplelag course including the lakeside drops.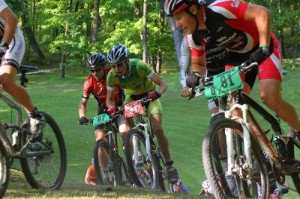 Sunday the main event will be the cross-country mountain bike race. We will have kids comp, citizen, sport, comp and expert race categories. The citizen and kids comp race runs on the cross-country ski trails at Maplelag and includes a few small sections of singletrack. The kids comp race is one lap of the citizen course. Citizen riders will do three laps. Laps are around 3 miles. The sport,comp and expert races run on the ski trails and also include sections of the famous singletrack at Maplelag. Laps are around 7  miles.  Kids Comp (1lap) race starts at 9:0am, Cat 3 Citizen (3 laps)starts at 9:30am Cat 2 Sport (Citizen lap plus 1  full lap of Sport/Comp/Epxpert loop (10 miles)) is at 11:00am, Cat 2 Comp (2 laps 14 miles) 1:15pm  and Cat 1/Pro Experts (3 laps 21 miles) at 1:10 and 1:11pm. Kids race at 12:45pm. (The kids race will be a short spectator friendly loop near the start finish area and will include a small section of ski trail). T-shirts are given to all registrants and awards are given in the different age classes. We also have a great kids race that is suitable for ages 3-11 with prizes for all who participate. Our great sponsors provide us with several door prizes to give away. What a great chance to experience Maplelag, other than during the winter season, at a very reasonable rate! For those of you not interested in racing, please consider hiking, canoeing, fishing, or bird watching as other activities to enjoy during the weekend. Bonfire Sunday night.
Call 1-800-654-7711 or e-mail us for more information on lodging. The special rate of $79 per adult per night includes at least two meals and use of Maplelag amenities. The rate for children ages 10-15 is $29, ages 6-9 is $19. Children ages 5 and under are free. We will also have a limited number of camping spots available. Cost of camping is $5 per person. There is no food service available with camping this year. We will also reduce the cost on the Tier 1 units (rooms without a bath) for this weekend at a rate of $49 per person. Call 1-800-654-7711 or e-mail maplelag@tvutel.com to make reservations. A two night minimum. With Labor Day on Monday, why not stay Sunday night and relax at Maplelag before heading back home!!  Note: You must pre-register for camping. Please do not show up and camp without registering. Please register by phone or e-mail at least 3 days before the event!! The event is held under USAC permit.
2008 Laddies Loppet mountain bike stage race coverage on skinnyski.com , Saturday coverage
2009 Laddies Loppet Coverage on Skinnyski.com
Read the race recap on skinnyski
Current trail/course conditions on the Trail Map page.
Results from 2004 Laddies Loppet Scroll down to the bottom
Results from Laddies Loppet 2002
Photos and video clips from Laddies Loppet 2004 can be found on skinnyski.com .