Despite the warm weather this week, the woods and most of the trails still holding on to some snow. The skiing is starting to wind down for sure but still enough coverage here and there for us diehards to get out in the woods. Monday was an amazing day for skiing in April. The weather has been good for the sap to run from the maple trees. We no longer collect sap but many of the locals in the area collect sap to boil down for syrup. It takes 40 gallons of sap to make a gallon of syrup!! The lake is still thick with ice and we will be lucky to have ice out by the end of this month. Last year the ice was off on April 2nd! It is great to see the signs of spring. The waterfowl is on the move looking for open water (no sounds of loons yet) and the long days and intense sunshine on the clear days is heartening.
Total snowfall  this past season was 94″.   We are closed for the season. Thanks to everyone who came to Maplelag this season making it another great year. The trails will open for mountain biking once the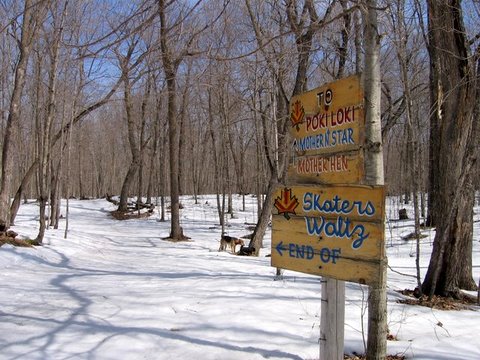 Album not found or account is not authorized.