The trails are open. After a brief moment of freezing drizzle, light snow, moderate at times, falling this morning. Around 1″ accumulation as of 9:30am and looks like we could get anywhere from 2-4″ depending on how the system pans out. Either way, just this snow so far will greatly improve the conditions and we are combing/working in the new snow this morning in to the afternoon.
A great weekend of skiing complimenting a full plate of activities!  Temps right around 30, sunshine and light wind. No melting on the trails. Yes, still some rough spots and hard areas but overall, all things considered, the skiing is quite nice. Skate lanes groomed daily the past 10 days as well as Suicide Hill.
Conditions are fresh snow on top of hard, compacted base of 2-4″ Snow depth in the woods is 3-6″. Total snowfall since January 1st is 9″. Around 30km tracked for classic, 15km groomed skate and all other have a packed base or skier made track. A few trails in the AMA area will not be groomed this year. Areas of thin cover and rough. Check the trail report board in the main lodge for the latest trail information.
Best trails for classic skiing are Sukkerbusk, Twin Lakes and North Loup. Sap Run, JibFly, Mother North Star and Rootin Tootin also have track set, bit more rough in spots but skiable. Skating is very good to excellent on Skaters Waltz. North Loup good for skating, just a few rough spots. Snowshoeing is good, folks skating on the ice rink as well and sledding happening in the back bowl.
Great day for the Section 8 Nordic Ski Championships on Tuesday. Nice job to all the skiers who participated and competed. Congrats to all the state qualifiers including local skiers Austin Askelson and runner up girls champ Berit Ramstad-Skoyles from Detroit Lakes who has skied many kilometers at Maplelag.
The trails are open. Trail passes for day skiing for non lodging guests are $15. Ski rental available at $15 a package. During mid week, lunch and day trail pass package available for $25. Call 218-375-4466 or email at maplelag@arvig.net for more information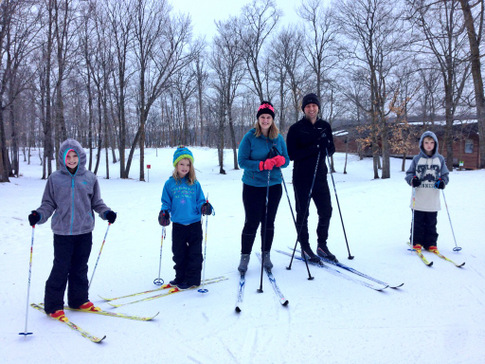 https://plus.google.com/photos/117475008862763984699/albums/6113335569999016033
https://plus.google.com/photos/117475008862763984699/albums/6112863387807942049
https://plus.google.com/photos/117475008862763984699/albums/6111496685216279969
https://plus.google.com/photos/117475008862763984699/albums/6110606960769875041
https://plus.google.com/photos/117475008862763984699/albums/6109906995900459297