Light drizzle most of the day on Tuesday giving way to sun cloud mix on Wednesday. We were treated to some spectacular light scenes on the lake with the sun making an appearance today. Trail work on hold with the moisture on Tuesday but should be able to clear leaves rest of the week before colder temps and possibly snow end of the weekend. Overall, things are in great shape and ready for colder weather to set in frost and snow to stay for good! We have also been clearing leaves off the mountain bike singletrack for late season riding and to help facilitate dry trails in the spring. The trails are closed this week as of deer hunting going on in the area.
https://picasaweb.google.com/117475008862763984699/November7thSunPhotos?authkey=Gv1sRgCIDU1c_sxYuJ9QE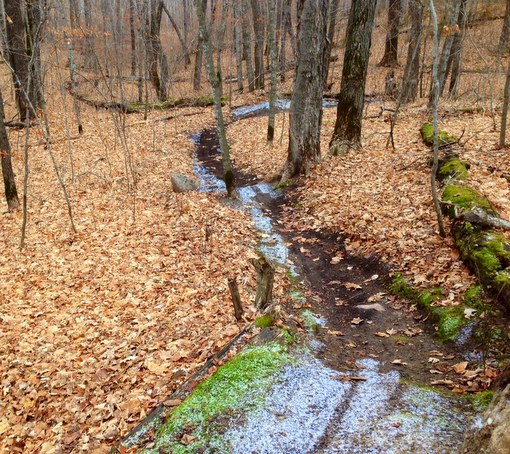 https://picasaweb.google.com/117475008862763984699/November1stTrailReportPhotos?authkey=Gv1sRgCMnNvIqa3ZXQeA
https://picasaweb.google.com/117475008862763984699/October29thTrailReportPhotos02?authkey=Gv1sRgCLWH5-vIrf7e0gE
Winter Wonderland conditions Sunday morning with fresh snow!! We woke up to a solid 4″ of dry snow….just enough to groom for the first time this year. We groomed about 2.5km of trail including Suicide Hill. Groomed the trails that has been recently cleared of leaves etc so the timing was perfect! A quick ski after grooming found nice conditions for the first ski of the year.
https://picasaweb.google.com/117475008862763984699/October28thTrailReportPhotos02?authkey=Gv1sRgCK7R96-s1qOY_wE
The trails will be closed from November 3rd-11th because of deer hunting in the area.
The mountain bike course is open with days being numbered. A lot of  leaves coming down making it difficult to see in spots but nice riding on Twin lakes singletrack which was cleared of leaves on Friday. We will blow out a few more sections of singletrack this week before the trails close to deer hunting this coming weekend. Latest bike trail report.
https://picasaweb.google.com/117475008862763984699/October16thTrailReportPhotos?authkey=Gv1sRgCKWr-9v18bSDdQ
https://picasaweb.google.com/117475008862763984699/October6thTrailReportPhotos?authkey=Gv1sRgCPjsqszfy-LepQE
https://picasaweb.google.com/117475008862763984699/October4thTrailReportPhotos?authkey=Gv1sRgCM6noIT33_WKRg
https://picasaweb.google.com/117475008862763984699/October2ndTrailReportPhotos02?authkey=Gv1sRgCKeZnZXn9IPPoAE
https://picasaweb.google.com/117475008862763984699/September28thTrailReportPhotos?authkey=Gv1sRgCM_G7r3OgaesLA
https://picasaweb.google.com/117475008862763984699/September26thTrailReportPhotos02?authkey=Gv1sRgCIW3_4vO0b28Wg
https://picasaweb.google.com/117475008862763984699/September23rdTrailReportPhotos02
https://picasaweb.google.com/117475008862763984699/September20thAnd21stFallColorPhotos?authkey=Gv1sRgCLXTzZXatKmONA
https://picasaweb.google.com/117475008862763984699/September1518FallColorPhotos?authkey=Gv1sRgCNqA-57CxvSWmAE