Another gorgeous Spring day on the trails. Brilliant sunshine, light winds and incredible skiing for March 29th. Really hard to believe how good the skiing has been for this late in the season. We are still skiing on the snow from last weeks storm and there is still a base on average of 8″ from the season snow!! Skaters Waltz groomed late this afternoon, bypassing Kamikaze hill and using Poki Loki to connect. The grooming from Monday on  Suicide Hill and North Loup holding out well and should be some nice skiing Wednesday morning until 1pm or so.
Total snowfall  this season has been 88″.   We are closed for the season for lodging but grooming select trails until the snow is completely gone. Trails will be open at no charge with no services available.  If you are a non-season ticket holder, please call us in advance if you wish to ski. 218-375-4466 or email at maplelag@arvig.net  Thanks!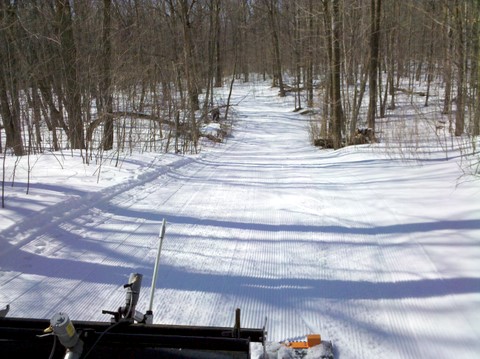 Album not found or account is not authorized.