A cool and crisp weekend!  No worries on snow melt.  Bundle up, click in, and enjoy the bright sunshine and fast tracks!  Cold temps and dry air setting up the trails hard. New tracks set on Roy's Run, Rootin Tootin and Wavy Gravy Friday night.  Sukkerbusk, Twin Lakes and North Loup and skate lane refreshed on Skaters Waltz and North Loup Thursday night. (click here for photos) New track set on Rootin Tootin Wednesday.  There are a few thin/rough/icy couple small bare spots here and there but overall the skiing is very nice  considering the low snow year. Cooler temps keeping the snow in place and good skiing through the weekend.  Expect bit faster with some icy section on trails not freshed groomed but still some nice skiing to be had. Check the board near the office for the latest updates and which trails are in best condition.
Ski conditions rated good to excellent (thanks for your reports, we appreciate it!).
All 64km of trail open with track set on 56km of trail and 15km groomed for skating. 4km of snowshoe trail open. Ice skating rink in very good condition.
Compacted base on trail 2-6″. Snow depth in the woods 6-14″. Total snowfall last week around one inch of frost snow. Total snowfall this season around 19″. Although this is a low snow year, we spend every dry day outside the winter season preparing the trails to be in the best condition possible so we can have good skiing on minimal snow and the newer grooming equipment does a nice job working with the snow to make for better skiing.
New track set on North Loup Thursday morning, February 9th. Groomed for skate and classic.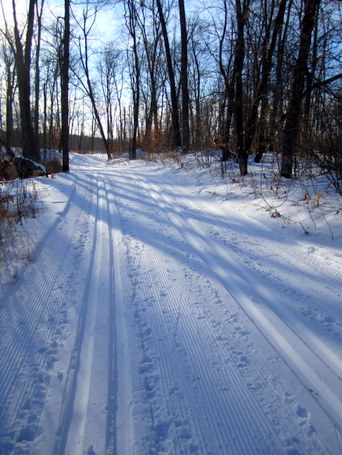 https://picasaweb.google.com/117475008862763984699/SectionPursuit2012Photos
https://picasaweb.google.com/117475008862763984699/Sections12SkatePhotos

https://picasaweb.google.com/117475008862763984699/February5thTrailReportPhotos03?authkey=Gv1sRgCNTZztf1nP7sEQ
https://picasaweb.google.com/117475008862763984699/February4thTrailReportPhotos02?authkey=Gv1sRgCOCmr8Kd6a6rxAE
https://picasaweb.google.com/117475008862763984699/February3rdTrailReportPhotos04?authkey=Gv1sRgCJDd9q70sr7zcg