The forecast is looking better for snow chances! The groomer is ready and as soon as a few inches accumulate, we will be hitting the trails packing and grooming. Folks have been hiking, ice skating and mountain biking for activities and we also cut a hole for plunging and a hole for the dark house for spearing and ice fishing. Skiing on the lake is on hold after warm temps on Monday. Sections of trail are holding snow coverage and won't take much on these sections to have skiable conditions.
Skating on the lake is good and most guests enjoying the beauty of skating on the lake. The ice skating rink on land is skateable on most of the rink and have been touching up to improve the surface. The forecast looks more favorable for winter activities the rest of the week. Either way folks are enjoying exploring and adventuring in the woods. It is very frustrating not having snow to ski as we love to ski our selves but we are enjoying the woods via running, hiking, biking and skating on the lake enjoying the beautiful outdoors. Interesting comment from guest checking out today: "even with no snow to ski, after 10 years of coming to Maplelag, we had one of our most memorable years with the different activities we did this year".
Album not found or account is not authorized.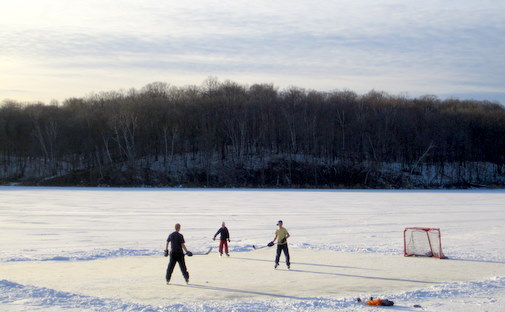 Album not found or account is not authorized.