Snow has returned after the snow last week melted off over the weekend. Snow squalls off and on Monday accumulating to an inch or so. The weather patterns look to switch to more winter like weather this week and the rest of the month. Hopefully we have some early season skiing in 7-10 days!
The ski trails are in excellent conditions and looking great for the winter.  We have completed mowing/clearing/brushing the trails and will continue doing tune up and clearing dead fall, keeping up with the strong winds as of late.  We flagged a new loop for the snowshoe trail and it is now cleared and ready for snow!  The mountain bike season is just about done. A few riders on trail over the weekend.   Latest bike trail report.
The swans have been very active on the area lakes and a treat to have flying over. A few flocks of ducks and geese and sightings of racoons, turkeys and a few grouse and a special treat a few Saturday mornings ago with a group of otters goofing around on island lake! The tamaracks still hanging on to a few needles.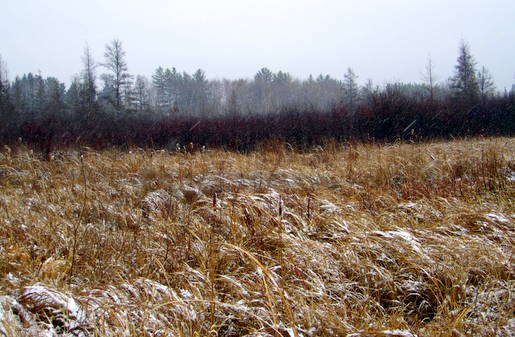 https://picasaweb.google.com/117475008862763984699/November8thTrailReportPhotos
https://picasaweb.google.com/117475008862763984699/October29thTrailReportPhotos