Lotvola-Cup-2012-is a cross country ski race where only the traditional technique is allowed. It will start on the lake with the usual blast of dynamite to get everyone's adrenaline pumping. It is an event for all levels of ability, from the youngest skier to the serious competitor. A special Maplelag token (hat/pin/socks) is given to all finishers and ribbons are awarded to the top finishers in each age class.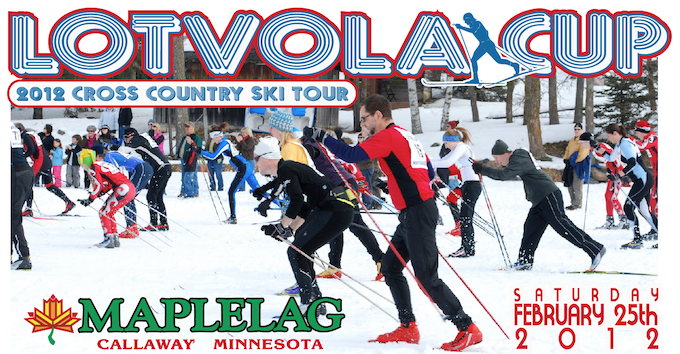 But, the focus is on each individual having fun, feeling good about finishing and maybe bettering their time from the year before. We also award the "Mayor's Cup" presented by Marci Hutchinson on behalf of Mayor Matt Brenk of Detroit Lakes. There is a chance for anyone to qualify for this honor, as a new category is determined each year and it is not announced until the race is finished. (Farthest traveler, first registrant, youngest female finisher, are a few examples.) We also have a wooden ski division for those that use "wood" skis. Overall awards to the first male and female. Please consider a return trip to Maplelag for this event or make this your special weekend of the ski season.
· Start Time: 11 am Minnesota Youth Ski League Kids race at 1pm
· Course: 12K of Pisten Bully and Ginzu groomed, double tracked trail over varied terrain (woods, clearings)
· Awards: Awards to first 3 finishers in each class. All finishers are eligible to win the MAYOR'S CUP!