Trails are open for skiing.  Solid hard base with good coverage throughout. Surface is hardpack with a few icylike sections.   Trees etc. coated thick with frost making for winter wonderland scene.  We have been working on the trails this week harvesting snow, mostly on Skaters Waltz. Conditions have improved and skiing has been good on Skaters. We will be working Twin Lakes, JibFly and Sukkerbusk the next two days doing our best to improve the classic conditions on these trails, mainly covering up the thin spots so the base will be consistent before next snowfall.
A handful of the southern exposed areas have opened up with sun and the warmth from last weekend and some thin areas exposed. With that said, we are recommending to classic ski on Sukkebusk and JibFly and skate ski on Skaters Waltz.   Other trails are open but there are some thin areas with exposed ground in spots.  Scattered leaves and other organic forest matter here and there on the trails. There is also a 4km loop on the lake that has been groomed for skating and also a track on the side. On the west side of the loop, there is a double track on one side for instruction purposes.
A great weekend for the first HS Ski camp.Nice job to all the skiers that logged some big time kilometers, including a handful that skied 100km on Saturday!  ( Results and photos from the Natural Snow Opener race.)
50km of trail groomed. 35km groomed classic only, 15km groomed skate only. 4km lake loop groomed (skate/no track) for total of 54km groomed. Early season conditions, use caution on the downhills as a few thin/rough/unmarked obstacles exist, especially on the outer trails after Saturday's warm up.
Double track set on Sap Run, Sukkerbusk, Poki Loki, JibFly, and Twin Lakes.  Rootin Tootin, Mother North Star, Wavy Gravy and Island Lake trail single tracked. No grooming between the marsh area. Best to take skis off and walk through but people have been bushwhacking through as well.  Total km tracked around 35km. Skate lanes recently groomed on Skaters Waltz, North Loup and Skaters Extension as well as Suicide Hill for nearly 15km of groomed skate trail.
 Ski rentals available for overnight guests.
Total snowfall since November 1st around 11″ Total snowfall since October 1st around 19″. October snow melted off but currently the base from November snowfall is 1-4″. The trails at Maplelag are maintained as such that we can have good skiing on less snow and we take pride in managing less snow.
Please no walking or hiking on ski or bike trails.
 The Twin Lakes singletrack will be open for winter riding/fat biking once again this season. Most recent grooming November 30th. Click here for latest report and information.
Ice rink ready!  December 20th, 2018.
Frosty scene along JibFly, December 20th, 20-18.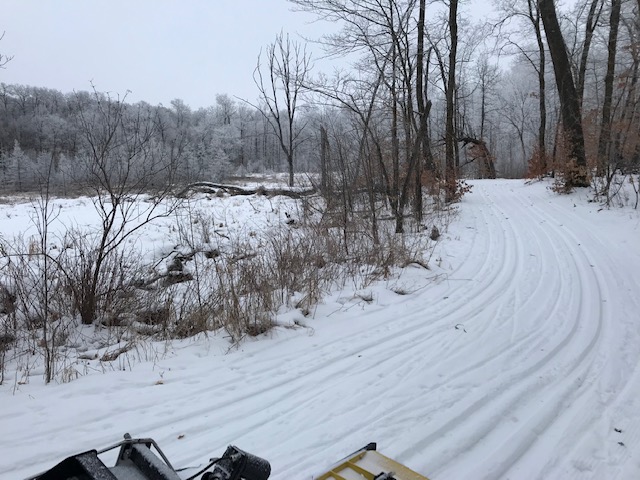 Setting new track on JibFly. We were able to set a new track on about 50% of the trail. Along with Sukkebusk, classic trail recommended to ski right now.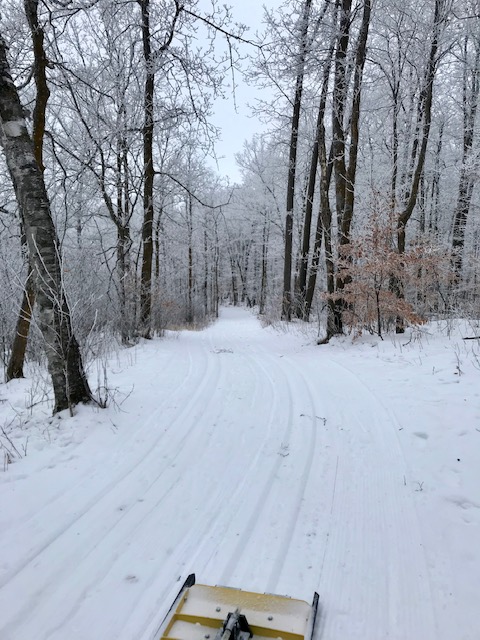 Setting new track on Twin Lakes. We set a new track on 25% of the trail as we walked along shoveling on the thin areas. December 20th, 2018.
Frosty scene at Eagle Nest view. Twin Lakes trail. December 20th, 2018.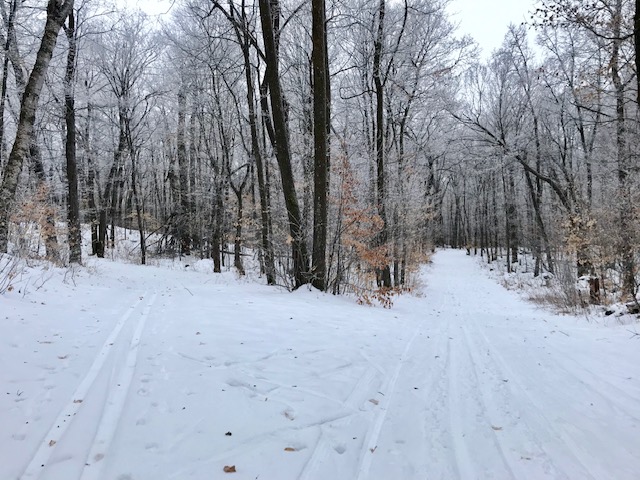 End of Island Lake trail where it merges with Twin Lakes trail. Track in fine shape 70% of Island Lake trail. Scattered forest matter on top. December 20th, 2018.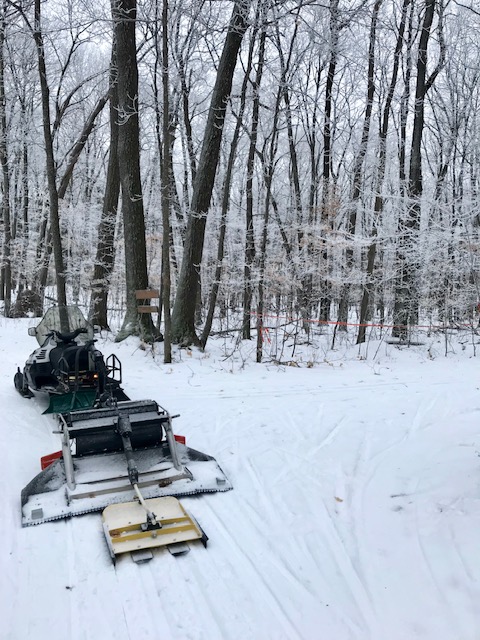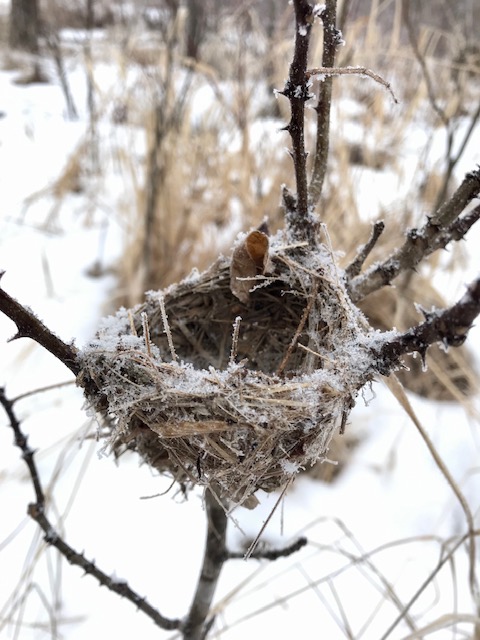 Gone for the winter!
Frosty edge on South Twin Lake.
Patching up the base on south facing downhill on Twin Lakes trail. December 20th, 2018.