At Maplelag there are no TV's, video games or phones in the rooms, providing a wonderful sense of isolation from the outside world. Imagine yourself with your family or friends putting together a jigsaw puzzle, playing a favorite board game or just "catching up with each other". And, the new lodge is full of little nooks and crannies just waiting to be discovered. At Maplelag, it isn't all about cross-country skiing. We offer a variety of ways to relax and enjoy your time with us. So, however you choose to spend your time, Maplelag is the perfect place to make magical memories.
Variety Show and Dance
Saturday night at Maplelag has always been special with the Variety/Talent Show followed by our dance with TJ the DJ. TJ mixes up the show with a variety of fun games and dances and will play eveyones favorites. With our great sound and lighting system and our new dance floor we have some great party times. And it wouldn't be Saturday night without Grandpa Jim's specialty of lots of buttered, old fashioned popcorn(which by the way, we only use white popcorn). There is never a blue cloud at Maplelag because of our Day 1 policy of being smoke free in the lodge. You are more than welcome to bring your own spirits. On Martin Luther King and President's weekend the Variety Show is Sunday night with the TJ the DJ show on Saturday night. On some Saturday nights, we do not have the dance. Please contact us with questions.
Maplelag provides endless entertainment opportunities for our weekend guests. We are the proud host of the Maplelag Variety/Talent Show that is typically held before the dance on Saturday night. Partake if you wish but "No Pressure" if you don't!! The talent show is for any person or group who wishes to participate. We've had almost every type of act imaginable from wizards, karate demonstrations, and reciting the presidents or states. You can even stand with a frozen fish and we will applaud. Come prepared (or un-prepared!) with a musical instrument, family skit, funny story, or a song to sing. This is a special highlight of the weekend and a favorite of our repeat guests.
Hot Tub/ Spa
Maplelag is home to the states largest spa/hot tub. Now fully enclosed, we still have sliding glass doors and a retractable roof which is a nice feature in the winter when the snow is falling down!!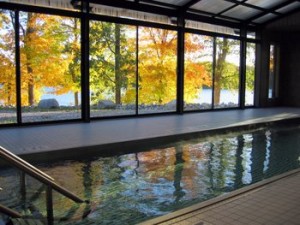 Bird Watching
Wildlife Observations Maplelag is located on the edge of prairie pothole country, just fifteen minutes from the Tamarack National Wildlife Refuge and less than an hour from Itasca State park, making bird and animal watching a favorite past time. In the spring and fall we see migrations of many species of birds, especially waterfowl and song birds. Summer provides Little Sugarbush Lake with a great resident loon population as well as a nesting area for blue herons, eagles and trumpeter swans. During the winter months we put out sunflower seeds and cracked corn at various locations on the ski trails. You never know who will be out with their eyes on you!
Skiing Lessons
Ski instruction is offered to all levels of ability. If you have never skied before, Maplelag is a great place to learn how to ski. We go out of our way to make sure people are comfortable with this new adventure and will want to come back for more. Top level instruction in classic, skate and telemark technique and racing/training.
Ski Rental
We have Fischer skis in our rental shop, offering the "traditional" touring ski as well as top of the line track and skating ski. Complementing the rental fleet will be the reliable and warmest boot on the market, Alpina boots. Ski Rental package is $15 for the day and $10 each day after.
Snowshoeing
We have the "Glacier" snowshoe in our rental fleet which is made locally here in Minnesota. We also carry the Little Bear brand of snowshoes and the traditional Ojibiwe style snowshoe. If you are interested in snowshoeing at Maplelag, it is best to bring a Sorel type winter boot or you can rent ski boots.
Ice Skating
The Fall of 2006, Maplelag added a new ice skating rink complete with a warming house that has the old barrel stove for great warmth to take off the chill on a brisk day. The rink is located in the switchyard and has become a popular place for all ages to enjoy skating. Not having the "rink" on the lake, we are able to control the surface conditions much better and the unique situation provides protection windy days. We have odd and end sizes of skates available to use at no charge but if you have your own skates, best to bring those. We are also taking donations for the warming house if you have any extra skates you are not using.
Sliding
Just behind the cabins at Maplelag we have an area we call the "back bowl". This area has been a hit with kids as we have sleds available to use at no charge and kids (and adults) can make runs up and down the slopes. There usually is a small jump that gets built on the side for some added excitement. At the bottom and off to the side is a flat area that has worked out great for ski lessons.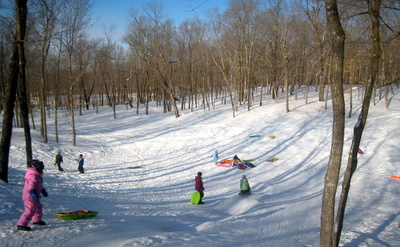 Ice Fishing
Maplelag has two fish houses available for your use, if you are interested (advance notice is appreciated). Record breaking walleyes have been caught just in front of the lodge. A Minnesota fishing license is required.
Massage Therapists
Whether you want to just relax after a full day of skiing or have a more therapeutic treatment, you should definitely consider having a massage! Maplelag has licensed massage therapists available most any time of the day. They will be glad to answer any questions that you may have regarding the health benefits of a massage. Please schedule your appointment online:
Book Now
Please pay the therapist directly. (Gift certificates are available.)
Parrilla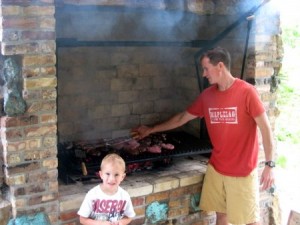 The Parrilla sits adjacent to the new warming house for the upgraded ice skating rink. Jim was in Argentina, scouting and researching various barbecues in use. He was able to bring back some parts for the "grill" and Maplelag's welder/mechanic(Arnie Kiehl) custom built a grill for the Maplelag Parrilla. The Parrilla is made with the rare petrified silcrete as well as petrified wood from Southwest North Dakota, stones from Saskatchawan, Canada and raw native float copper pieces from da UP of Michigan and its copper country. The firebrick came from the old boiler building in Moorhead MN and the regular brick is from Hebron brick in Fargo which was reclaimed. The Parilla is used primarily in the summer time for the Concordia Language Camps but we also will grill for special occasions in the Fall and Spring.