Over the past five years, we have had three original Maplelag posters done by Fergus Falls artist, Charlie Beck. They have been absolutely fantastic and each one captures a different aspect of Maplelag. We are thrilled that he was willing to depart from his usual art forms to create these for us. And we have our fingers crossed that the muse will alight again and he can do a fourth for us.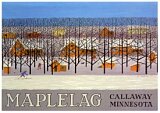 Charlie is the wonderful artist who's woodcut prints we have been showcased in the dining room of our lodge. We are honored that he has asked Maplelag to serve as gallery for his work. The prints certainly help to recreate the mood and feeling of the former Maplelag dining room. We also share an interest in duck and fish decoys and Charlie carves wonderful, sculptural shore birds and loons.
Many of you have asked where you can see and/or purchase his prints and decoys. Just give Joyce or Charlie a call at their home in Fergus Falls, MN, where his studio is located. Maybe you can catch them on your way to or from Maplelag or you can make an appointment. Charles and Joyce Beck, 529 Guttenberg Heights, Fergus Falls, Minnesota, (218) 736-3957.