Trail Reports
We post regular updates on our trail conditions, along with some nature observations…
Wednesday, October 29, 2014 - Nature
After a dry warm run of weather, cooler temps with light rain and even a few flakes of snow to start the week. The dry weather has been great for working in the woods, fine tuning the trails including clearing leaves off the trail. We have made good progress on the leaf clearing and will continue right up until the  snow flies for real! We try to clear 20-25 km of trail so we can be skiing on these trails with minimal snowfall.
The tamarack trees are just past their peak, the only coniferous tree to loose its needles along with the aspen trees. Great swamp scenes in the woods right now.
We hit our peak of fall color around September 23rd, enjoyed a beautiful few weeks of autumn scenes but now with wind and freezing nights, most of the leaves have come down. This year was one of the quicker transitions of fall color we can remember.
Has been a great autumn for our fall tree planting project where we plant potted and tube trees. In the spring we planted over 5000 seedlings. We have been planting for over 40 years with over 100,000  trees planted on the Maplelag property.
The sunrises and sunsets this time of year are some of the best of the year and we have been treated with some great scenes this fall so far.
We have been mowing and clearing deadfall off the trails, preparing them for winter and working on the mountain bike trail.  We have also been "sanitizing" the ski trails, clearing rocks, roots and filling in low spots.  The trails are in fantastic shape for the end of October!
The mountain bike trail is open.  (click here for latest mountain bike trail report) No horses and motorized equipment equipment allowed. Thanks!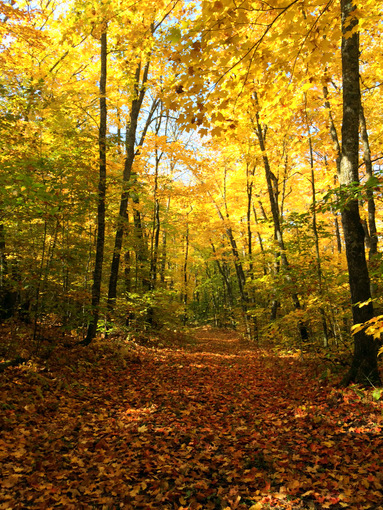 Island lake ski trail. September 25th, 2014.
Weather
User-Submitted Trail Reports

Event Calendar
Upcoming Events
November 6, 2014:
November 12, 2014:
November 20, 2014:
November 21, 2014:
December 12, 2014:
December 16, 2014:
December 19, 2014:
January 29, 2015:
February 27, 2015:
March 13, 2015:
April 24, 2015:
May 23, 2015:
May 29, 2015:
June 5, 2015:
June 13, 2015:
August 28, 2015:
September 4, 2015:
September 11, 2015:
September 18, 2015:
September 23, 2015:
October 1, 2015:
October 9, 2015:
October 16, 2015:
Facebook
Twitter